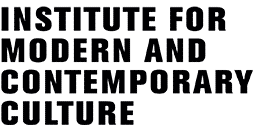 IMCC is at the leading edge of research in modern and contemporary culture across a number of fields. Common research interests include:
Critical and Cultural Theory
Cultural and Educational Institutions
Digital Humanities
Experimental Writing
Memory Studies
Modernism
Science and the Imagination
Urban Cultures
Word and Image
IMCC staff participate in a wide range of research projects within and beyond the University of Westminster.
The Contemporary Small Press project seeks to provide a forum for contemporary small publishers of poetry and fiction. Led by Leigh Wilson (IMCC) and Georgina Colby (IMCC). Funded by Arts Council England.
Higher Education and Theory (HEAT) Network is a network of individuals reading, researching and writing on the theory of education, open to all staff and research students at the University of Westminster. Organised by Matthew Charles (IMCC), Steven Cranfield (Westminster Business School), and Allan Parsons (Academic Liaison Librarian for Art and Design, Journalism and Mass Communications).
The Natural History of Memory explores the ways that environments register and mediate the memories of catastrophe and injustice. Organised by Lucy Bond (IMCC), Rick Crownshaw (Goldsmiths), and Jessica Rapson (KCL).
Queer London Research Forum aims to facilitate interdisciplinary discussion on various aspects of queer London, c. 1850-present. By bringing together academics, practitioners, students and those with an interest in queer issues more generally, the forum encourages dialogue and debate about the range of London's queer lives and experiences. The forum is co-directed by Simon Avery (Westminster) and Katherine M. Graham (Westminster).

The Institute for Modern and Contemporary Culture
University of Westminster Department of English, Linguistics and Cultural Studies
32-38 Wells Street, London W1T 3UW. United Kingdom.