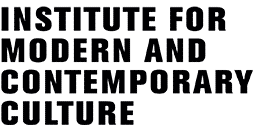 Directors
Professor John Beck (Director)
Professor David Cunningham (Deputy Director)
Steering Committee
Professor John Beck
Dr Lucy Bond
Dr Matthew Charles
Dr Georgina Colby
Alison Craighead
Professor David Cunningham
Dr Sara Dominici
Professor Leigh Wilson
Fellows
Professor Peter Cornwell (Data Futures Lab)
Dr Duncan Forbes (Fellow in Photography and Media)
Dr Jon Goodbun (Fellow in Urban Cultures and Ecologies)
Affiliated Members
Dr Atef Alshaer
Dr Simon Avery
Professor Harriet Evans
Dr Monica Germana
Dr Liz Harvey-Kattou
Dr Paul Kendall
Dr Nigel Mapp
Dr Federica Mazzara
Dr Emma McEvoy
Dr Michael Nath
Dr Peter Ride
Dr Elinor Taylor
Professor Alexandra Warwick
Dr Anne Witchard
Dr Alexa Wright
Former Fellows and Visiting Members
Joe Banks, a.k.a. Disinformation, was a AHRC Research Fellow in the Creative and Performing Arts based at the IMCC from 2010-12. His major project, Rorschach Audio, studied ambiguities of acoustic perception, with particular emphasis on relationships between artistic and perceptual creativity and illusions of sound.
Ferran Barenblit is Director of Spain's Centro Dos de Mayo, Móstolesart centre in Madrid. Before arriving in Madrid, he was Director of the Centre d'Art Santa Mònica (CASM) in Barcelona, and Assistant Curator, The New Museum, New York (1994-1996).
Dr Young-Paik Chun is Reader in the Department of Art History and Theory at Hongik University, Seoul, Korea, and was Visiting Research Fellow in 2010-11, sponsored by the National Research Foundation of Korea. She is author of Cezanne's Apples (2008) and editor of Twenty-Two Artists Talk through Generations (2010).
Professor Lennard J Davis is Professor in the Department of English at University of Illinois at Chicago. His books include Factual Fictions (1983), Resisting Novels (1987), Enforcing Normalcy (1995), The Disability Studies Reader (1997), My Sense of Silence (2000), Bending over Backwards (2002), and Obsession (2008). He was a Visiting Professor in the IMCC from 2008-11.
Dr Tommi Kakko is based at the University of Tampere, Finland, and has published in journals and essay collections on a variety of topics including John Dryden, Daniel Defoe, intermediality, modernism and psychedelia. Tommi was a visiting research fellow during 2014-15.
Rachel Lichtenstein is an artist, writer and curator who is internationally known for her books, multi-media projects and artworks that examine place, memory and Jewish identity. She was a previous Research Fellow in Creative Arts in the IMCC. She is the author of numerous books including Estuary: Out From London to the Sea (2016), Diamond Street (2012), Brick Lane (2007) and (with Iain Sinclair) Rodinsky's Room (1999). She has curated and hosted Shorelines: Literary Festival of the Sea since 2011.
Professor Stephen Melville is Emeritus Professor in the History of Art department at Ohio State University. His publications include the books Philosophy Beside Itself: On Deconstruction and Modernism (Minnesota 1986) and Writing Art History, with Margaret Iverson (Chicago 2010).
Sina Najafi is a Founder and the editor-in-chief of the New York-based Cabinet Magazine, and Director of the New York-based nonprofit arts organization Immaterial Incorporated. He has taught at Rhode Island School of Design, NYU, Princeton University, Columbia University, Cooper Union, and Stockholm University.
Professor Allan Stoekl is Professor of French and Comparative Literature at Pennsylvania State University. His many publications include the books Politics, Writing, Mutilation (1985); Agonies of the Intellectual (1992); and Bataille's Peak (2007). He was editor of a seminal special issue of Yale French Studies, 'On Bataille' (1990), and also translated Paul Fournel's Need for the Bike (2003). Allan was Visiting Professor in residence at the IMCC during the academic year 2012-13.
Dr Jarkko Toikkanen holds a PhD from University of Tampere, Finland and was a Visiting Research Fellow in 2011 supported by a full-year stipend from the Alfred Kordelin Foundation. During this time Jarkko worked on a monograph titled Suspended Failures: The Intermedial Experience of Horror. He is also co-editor of the collection The Grotesque and the Unnatural (2012).
Dr Nina Lager Vestberg is an Associate Professor of Visual Culture at the Norwegian University of Science and Technology, Trondheim, and a Founding Member of the Visual Culture in Europe Network. Her current project investigates the cultural implications of the transformation of the photographic archive from an analogue environment to a digital one. She was a Visiting Research Fellow at the IMCC in June 2011.
Dr Victoria Walsh was previously Head of Adult Programmes at Tate Britain (2005-11) and was project manager for the competition to select an architect for Tate Modern and the re-launch of the Fourth Plinth Project in Trafalgar Square for the Mayor's Cultural Office. Victoria was a Visiting Research Fellow in the IMCC from 2011-12. She now works at the Royal College of Art.
Dominic Willsdon is the Leanne and George Roberts Curator of Education and Public Programs at San Francisco Museum of Modern Art. He writes on contemporary art, aesthetics, and education, and is co-editor of The Life and Death of Images: Ethics and Aesthetics: Exchanges on Art and Culture (Tate, 2008)
Junior Visiting Research Fellows
Carmen Caruso, Philosophy, University of Calabria, Italy (2016)
Katharina Dorn, American Studies, Augsburg University, Germany (2015)
Chih-Sheng Ni, English Literature, Tamkang University, Taiwan (2013)
Yuthika Sharma, Art History and Archaeology, Columbia University, New York, USA (2012)
Vanesa Rodriguez Galindo, History of Art, UNED, Madrid, Spain (2012)
Lise Mortensen, Institute of Language, Literature, and Culture, Aarhus University, Denmark (2011)
Courtney Hopf, English Literature, University of California, Davis, USA (2010-2011)
Andrea Diaz, Art History, University of Barcelona, Spain (2009)

The Institute for Modern and Contemporary Culture
University of Westminster Department of English, Linguistics and Cultural Studies
32-38 Wells Street, London W1T 3UW. United Kingdom.