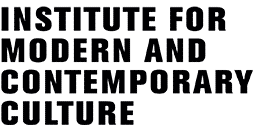 The Whitechapel Salons (podcasts)
Hope I: Gayatri Chakravorty Spivak
Hope II: Richard Sennett
Hope III: Chantal Mouffe
Hope IV: Peter Osborne
IMCC/CRMEP Public Lectures on Philosophy, Politics and Art (podcasts)
Professor Catherine Malabou (CRMEP, Kingston) –  Is Science the Subject of Philosophy? Miller, Badiou and Derrida
Dr Lucy Bond (IMCC, Westminster)/Professor Howard Caygill (CRMEP, Kingston) – Is Memory the Basis of History (After Trump)?
Professor Stella Sandford (CRMEP, Kingston) – Reason in Reverse – Kant and Freud on Faults 
Dr Radha D'Souza (Westminster Law School)/Professor Peter Hallward (CRMEP, Kingston) – What's Wrong with Human Rights?
Professor Étienne Balibar (CRMEP, Kingston) – Towards a Socialist Cosmopolitanism
Dr David Cunningham (IMCC, Westminster)/Professor Peter Osborne (CRMEP, Kingston) – The Poetics of Contemporary Art
Bonus Videos and Podcasts
Alter Ego: Short film of Alexa Wright's installation, with Alf Linney, at FILE 2007.
Ballard and Architecture: David Cunningham talks about J.G. Ballard, pop art & the novel.
Boundaries and Communities: Discussion at Showroom Gallery
City Cultures: David Cunningham at the City Cultures launch at the Architectural Association.
Chinatown Stories: Anne Witchard discusses representations of the Chinese in London.
Flat Earth: 2007 film by Thomson and Craighead which weaves material found online.
Genre without Genre: David Cunningham on the Philosophy of the Novel.
Human-Computer Interfaces: Peter Cornwell talk at Central Saint Martins, May 2011.
Intersciences, Philosophy, Writing: David Cunningham talks about Derrida.
The Local Art School and Globalised Bohemia: John Beck and Matthew Cornford at Winchester School of Art, 2014.
Making History: Anne Witchard on Victorian ballet and street-dancing.
Metropolitics: David Cunningham's 2009 public lecture at the Architectural Association.
The Persistence of the Lab: John Beck talks about Art and Technology Labs with Ryan Bishop, Jussi Parikka and Lori Emerson at Transmediale 2016.
Rodinsky's Room: Interview with Rachel Lichtenstein about her relationship to the East End.
Unprepared Piano: A piano is connected to a database of music MIDI files from all over the web. Thomson and Craighead.
Further Links
AHRC Spiritualism and Technology project
AHRC Translating China project
Blip Creative
Cabinet
City
Contemporary China Centre
Cultural Politics
Fotomuseum Winterthur
International Association for Visual Culture
Journal of Literature and Science
Journal of Visual Culture
Mute
Radical Philosophy
P3
The Polytechnic
Thomson & Craighead

The Institute for Modern and Contemporary Culture
University of Westminster Department of English, Linguistics and Cultural Studies
32-38 Wells Street, London W1T 3UW. United Kingdom.