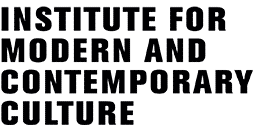 Friday 15 January 2010, 10am-4.30pm with public lecture at 5pm
Fyvie Hall, University of Westminster, 309 Regent Street
Our next door neighbours in the Centre for the Study of Democracy (CSD) are hosting their annual CSD Encounter on Friday 15th January 2010. Following recent encounters with Julia Kristeva and Stuart Hall, this year's one-day event will be focused on the work of Charles Taylor, with two workshop sessions followed by a public lecture by Professor Taylor himself on 'Secularism and Multiculturalism'. Workshop speakers include Grace Davie, Steven Lukes, Tariq Modood, Chantal Mouffe and Stephen Mulhall.
For further information and to RSVP email: Jessica.schmidt@my.westminster.ac.uk

The Institute for Modern and Contemporary Culture
University of Westminster Department of English, Linguistics and Cultural Studies
32-38 Wells Street, London W1T 3UW. United Kingdom.