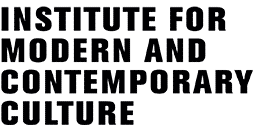 For our Catalan friends: David Cunningham will be representing the IMCC in Barcelona this week at the Catalan Association of Art Critics' Fifth International Symposium on Art Criticism in a Global World. His opening address to the conference, entitled 'Global Art/Global Modernities', will be at 4.30pm on Friday 20 November at the MACBA Auditorium.
Further details here.

The Institute for Modern and Contemporary Culture
University of Westminster Department of English, Linguistics and Cultural Studies
32-38 Wells Street, London W1T 3UW. United Kingdom.