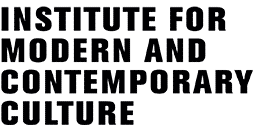 Journal of Visual Culture has launched its new WordPress site. Please go to http://www.journalofvisualculture.org/ for details of recent/forthcoming issues such as its current 'Questionnaire on Barack Obama', free content, and information on related projects, conferences, and events. Join jvc on Facebook, etc.

The Institute for Modern and Contemporary Culture
University of Westminster Department of English, Linguistics and Cultural Studies
32-38 Wells Street, London W1T 3UW. United Kingdom.