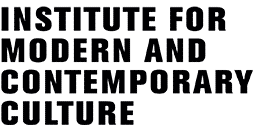 Another day another new book from an IMCC associate. We're delighted to announce the publication of Monica Germana's first book, Scottish Women's Gothic and Fantastic Writing, from Edinburgh University Press.
The book considers four thematic areas of the supernatural – quests, dangerous women, doubles and ghosts – each explored in one of the four main chapters. Being the first critical work to bring together contemporary women's writing and the Scottish fantasy tradition, the volume pioneers in-depth investigation of some previously neglected texts such as Ali Smith's Hotel World; Alice Thompson's Justine; Margaret Elphinstone's longer fiction, as well as offering new readings of more popular texts including A.L. Kennedy's So I am glad, Emma Tennant's The Bad Sister and Two Women of London. Underlying the broad scope of this survey are the links – both explicit and implicit – established between the examined texts and the Scottish supernatural tradition.

The Institute for Modern and Contemporary Culture
University of Westminster Department of English, Linguistics and Cultural Studies
32-38 Wells Street, London W1T 3UW. United Kingdom.