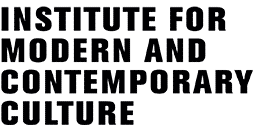 Last Friday 14th May saw the launch of the Architectural Association's City Cultures project, to which the IMCC's David Cunningham has been a contributor. The texts from the project, including David's 'Nine Theses on the Metropolis', can be read or downloaded here.
The AA have also posted a video recording of the launch event on their website, with brief talks from David, Doug Spencer, Peter Carl, and others, at: http://www.aaschool.ac.uk/VIDEO/lecture.php?ID=1230
For those interested, an earlier talk on Metropolitics by David at the AA, as part of their Landscape Urbanism Public Lectures series, is also up on their website. Watch it here.

The Institute for Modern and Contemporary Culture
University of Westminster Department of English, Linguistics and Cultural Studies
32-38 Wells Street, London W1T 3UW. United Kingdom.