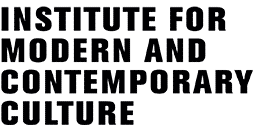 We are thrilled to welcome Joe Banks to the Institute for Modern and Contemporary Culture at University of Westminster, London. Joe is AHRC Research Fellow in the Creative and Performing Arts, and his current ongoing major project 'Rorschach Audio', studies ambiguities of acoustic perception, with particular emphasis on relationships between artistic and perceptual creativity and illusions of sound. Joe's experimental music and installation art project Disinformation recorded 8 commercially published LPs and CDs (pioneering the use of electromagnetic noise from electric and magnetic storms, live mains electricity, industrial, domestic and IT hardware, transport infrastructure and from the sun etc., as the raw material of electronic music and sound art).

The Institute for Modern and Contemporary Culture
University of Westminster Department of English, Linguistics and Cultural Studies
32-38 Wells Street, London W1T 3UW. United Kingdom.