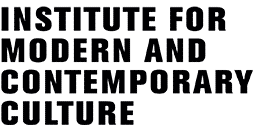 Excellent guest blog by our own Michael Nath at Exclusively Independent about Gabriel Josipovici's Whatever Happened to Modernism?  and the media fuss that it's generated:
"Professor Josipovici argues that the English novel has become caged in recent decades, and that its famous practitioners have been putting on a tame show, for all their swaggering. This has annoyed the literary reviewers and metropolitan columnists, who're in the habit of making a fuss of certain big names, and don't appreciate being told they've been cheering cows; but it happens to be true. The ranking writers and the prize-winners make it solely because the idea has caught on that 'Modernism is dead'; the consequence of this is that contemporary writing can prowl about quite safely in its cage, or not prowl at all but just peep through its fingers."
Read more here. And while you're at it, check out David Cunningham's review of Nicolas Bourriaud's Altermodern exhibition in a recent issue of the Journal of Visual Culture. The defence of modernism begins here!

The Institute for Modern and Contemporary Culture
University of Westminster Department of English, Linguistics and Cultural Studies
32-38 Wells Street, London W1T 3UW. United Kingdom.