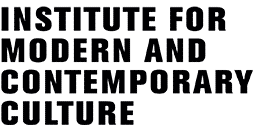 We're delighted to welcome Nigel Mapp to the IMCC from this August. Nigel is joining us at Westminster from the University of Tampere in Finland, and is author of the book Paul de Man (Polity 2011) and co-editor of Adorno and Literature (Continuum 2006). He has published widely on critical theory, deconstruction and early modern literature, and is currently working on literature and disenchantment.

The Institute for Modern and Contemporary Culture
University of Westminster Department of English, Linguistics and Cultural Studies
32-38 Wells Street, London W1T 3UW. United Kingdom.