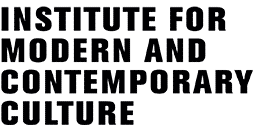 Our colleagues on the MA Photography Studies in the School of Media, Art and Design, based in Harrow, have organized an excellent Open Photography Lecture Series on Wednesdays this semester. They are free, but please arrive early since places are limited.
29 Sept, 2pm     Karen Knorr, Guest Photographer/Artist Talk
Lecture Theatre 2
6  Oct., 6pm     Kobena Mercer, 'Questioning the Cross-Cultural in Contemporary Art'
Lecture Theatre One (LT1)
13 Oct, 6pm     Victor Burgin, 'A Place to Read-a recent projection work for Istanbul'
Lecture Theatre One (LT1)
20 Oct, 6pm     Michael Newman, 'John Stezaker and the Image' 
Lecture Theatre One (LT1)
27 Oct, 6pm      Renata Salecl, 'Identification in times of uncertainty'
Lecture Theatre One (LT1)
24 Nov, 1pm     Paul Seawright, Guest Documentary Photographer/Artist Talk
Room TBC

The Institute for Modern and Contemporary Culture
University of Westminster Department of English, Linguistics and Cultural Studies
32-38 Wells Street, London W1T 3UW. United Kingdom.