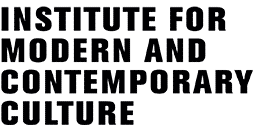 The Whitechapel Salon: Matter Matters I: Popular Matters
Thursday 13th May, 7pm
Study Studio, Whitechapel Gallery, London E1 7QX
The Whitechapel Salon is back! Spanning art, architecture, performance and sustainability, the forthcoming year-long series of four Salon discussions focus on the matter of 'matter' – its nature, substance and the productive forces that govern it. Chris Horrocks, Principal Lecturer, Kingston University and Julian Stallabrass, Reader, Courtauld Institute of Art consider Popular Matters including mass culture, vernacular photography, Web 2.0 and user-generated content.
Book now to avoid disappointment! Book your ticket here.
Tickets: £8/£6 (includes free glass of wine)
http://www.whitechapelgallery.org

The Institute for Modern and Contemporary Culture
University of Westminster Department of English, Linguistics and Cultural Studies
32-38 Wells Street, London W1T 3UW. United Kingdom.