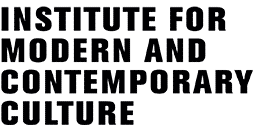 The latest issue of Radical Philosophy is out now, including a new article by David Cunningham entitled 'Capitalist Epics: Abstraction, Totality and the Theory of the Novel'. The issue also includes cracking pieces on James Ellroy and Rodolfo Kusch, as well as the latest analysis of Benjamin and Brecht's now infamous chess game… Buy it in all good bookshops or subscribe here.

The Institute for Modern and Contemporary Culture
University of Westminster Department of English, Linguistics and Cultural Studies
32-38 Wells Street, London W1T 3UW. United Kingdom.