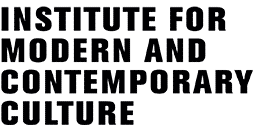 The IMCC's resident activist artist, and ex-member of the Scratch Orchestra, Stefan Szczelkun, will be taking part in a performance, with Keith Rowe and Carole Finer, as part of Cornelius Cardew and the Freedom of Listening, curated by Dean Inkster, at the Culturgest, Porto on Saturday 15th May. Later on the same evening Stefan will also be in conversation and showing a selection of excerpts from his Active Archives video project.
The Porto exhibition traces the career of the English avant-garde composer Cornelius Cardew, and includes scores and vast archival material of the experimental performances developed by Cardew and the members of the Scratch Orchestra, which he co-founded in 1969, along with posters from the period following Cardew's decision in the mid-1970s to renounce his work as an avant-garde composer and devote his energy to politics.

The Institute for Modern and Contemporary Culture
University of Westminster Department of English, Linguistics and Cultural Studies
32-38 Wells Street, London W1T 3UW. United Kingdom.