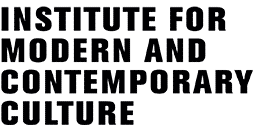 Thursday 10 February 2011, 7pm
Whitechapel Gallery, 77-82 Whitechapel High Street, London E1
Price: £8.00 (includes free glass of wine).
In collaboratiion with the Whitechapel Gallery, the Institute for Modern and Contemporary Culture is hosting the final discussion in this year's 'Matter Matters' Salon at the gallery. Social historian Iain Boal, philosopher Kate Soper and cultural theorist Allan Stoekl discuss the matter of sustainability. Chaired by David Cunningham.
Book your ticket at: 
http://www.whitechapelgallery.org/shop/index.php/fuseaction/shop.product/product_id/815?

The Institute for Modern and Contemporary Culture
University of Westminster Department of English, Linguistics and Cultural Studies
32-38 Wells Street, London W1T 3UW. United Kingdom.