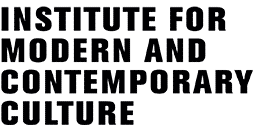 Westminster English Colloquium #15
"No Hawkers: No Models": The Vicissitudes of the Modernist Muse
Saturday 19th June 2010, The Pavilion, University of Westminster, 101 New Cavendish Street, London W1W
Keynote speaker: Jane Goldman (University of Glasgow)
In the spirit of Rhythm magazine's (1911-1913) declared editorial remit – to cover the widest 'manifestations of modernism in every province of art' – this conference will seek to expand those categories structured round the hegemony of painting, sculpture, and literature, by looking especially at what might be considered gestural modernism, that is the experimental social aesthetics, or self-fashioning which vied with bourgeois norms. The impact of modern life on the founding processes of subjectivity was expressed in newly considered metropolitan modes of the material of identity – dress, interior décor, dance styles, cabaret/performance, photography, cinema, music, and sex. While modernist masquerades of virile masculinity were adopted by Augustus John and Wyndham Lewis, the swaggering style of the gipsy, or the apache, required emancipated women to support it. This conference aims to explore the especial difficulties and excitements of negotiation undergone by women in pre-WW1 London in their cultural positioning as artist, muse or model, or as was often the case, in these interchangeable roles.
Papers are invited on unnoticed or sidelined texts and the ways that they explore the artistic self, both structured and structuring, and that look at how modernist women produced their artistic identity or 'enacted biography'. Possible subjects for papers: Vorticist artists sidelined by their male contemporaries: Helen Saunders, Jessica Dismorr, Kate Lechmere, and others; Jean Rhys, Katherine Mansfield and Mary Butts, who fictionalised their experiences as variously chorus girl, artist's model, film extra, witch, dope addict and prostitute; the memoirs and anecdotes of 'celebrity' artists' models, e.g. Dolores, Puma (Minnie Lucy Channing), Betty May, Viva (Booth) King, Euphemia Lamb, Lillian Shelley; the work of dancers such as Margaret Morris, Gertrude Hoffmann, Alice Mayes, Lydia Sokolova …
Proposals of around 300 words should be sent by no later than May 1st to Anne Witchard: a.witchard@westminster.ac.uk

The Institute for Modern and Contemporary Culture
University of Westminster Department of English, Linguistics and Cultural Studies
32-38 Wells Street, London W1T 3UW. United Kingdom.