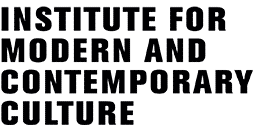 David Cunningham's essay 'Capitalist Epics: Abstraction, Totality and the Theory of the Novel', published in the September issue of Radical Philosophy, is now available online as a pdf on the journal's Recent Highlights page of their website.
Download it here.
Update: David will be speaking on Philosophy, Capitalism and the Novel at the University of Dundee on Wednesday 24 November (4-6pm). He'll also be in Glasgow on Thursday 25 giving a talk on the concept of modernism.

The Institute for Modern and Contemporary Culture
University of Westminster Department of English, Linguistics and Cultural Studies
32-38 Wells Street, London W1T 3UW. United Kingdom.