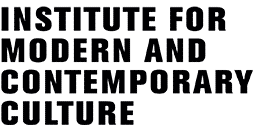 In the interests of Open Access, we are very pleased to attach Visual Culture Studies: Interviews with Key Thinkers (Sage, 2008), a PDF of the IMCC Director Marq Smith's book of interviews with Mieke Bal, Giuliana Bruno, Mark Cheetham, Michael Ann Holly and Keith Moxey, Susan Buck-Morss, Lisa Cartwright, Lennard J. Davis, Hal Foster, Paul Gilroy, Martin Jay, Nicholas Mirzoeff, W.J.T. Mitchell, Peggy Phelan, and Vivian Sobchack. Enjoy, and feel free to circulate.

The Institute for Modern and Contemporary Culture
University of Westminster Department of English, Linguistics and Cultural Studies
32-38 Wells Street, London W1T 3UW. United Kingdom.