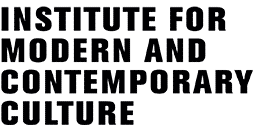 For anyone interested in architectural models, design education, and photography, the Institute's Dr Davide Deriu, a colleague from the Department of Architecture here at University of Westminster, has curated a fascinating exhibition entitled 'Modernism in Miniature' at The Canadian Centre for Architecture. If you happen to be in Montreal, why not swing by, it's on until January 2012:
http://www.cca.qc.ca/en/exhibitions/1487-modernism-in-miniature

The Institute for Modern and Contemporary Culture
University of Westminster Department of English, Linguistics and Cultural Studies
32-38 Wells Street, London W1T 3UW. United Kingdom.