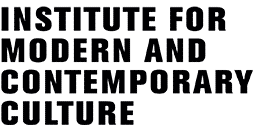 A quick plug for a superb blog by IMCC affiliate Emma McEvoy, about late eighteenth-century gothic music and performance, on Stirling's The Gothic Imagination site. As Glennis Byron puts it in the Comments: 'The post, is, people, pretty amazing … As we plod along, talking about Twilight and True Blood and Zombies and all that ephemeral rubbish, and repeating the same old points about gothic over and over and over and over, some people are actually doing real research'. Read it here.

The Institute for Modern and Contemporary Culture
University of Westminster Department of English, Linguistics and Cultural Studies
32-38 Wells Street, London W1T 3UW. United Kingdom.