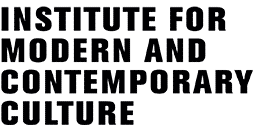 Contributions to forthcoming open issues include:
Emmanuel Alloa on Visual Studies in Byzantium, David Cunningham on the Metropolis; Willem Flusser on the gesture of photographing, Tom Holert on Bildwissenschaft, Esther Leslie on liquid crystals, Lev Manovich on visualization, Lynda Nead on boxing, Jacques Ranciere on cinema, Nicole Starosielski on transoceanic cables, Janet Wolff on the power of images, Winnie Wong on appropriation in Chinese visual culture.
Forthcoming themed issues include:
In 2012
Ways of Seeing: 40 Years On, with contributors including: Mieke Bal, Jon Bird, Lisa Cartwright, Jill H. Casid, Hazel Clark, Laurie-Beth Clark, Mike Dibb, Jennifer Gonzalez, Dick Hebdige, Richard Hollis, Elizabeth Guffey, S. Heller, Ben Highmore, Martin Jay, Guy Julier, Louis Kaplan, Peter Lunenfeld, Tara McPherson, Marita Sturken, Griselda Pollock, Adrian Rifkin, Vanessa Schwartz, and Ming Wong.
In 2013:
The Archives R Us issue, with contributors including: Raiford Guins, Gary Hall, Chris Horrocks, Tom Holert, Juliette Kristenesen, susan pui san lok, Joanne Morra, Hans-Ulrich Obrist, Vivian Rehberg, Marquard Smith, and Nina Lager Vestberg

The Institute for Modern and Contemporary Culture
University of Westminster Department of English, Linguistics and Cultural Studies
32-38 Wells Street, London W1T 3UW. United Kingdom.