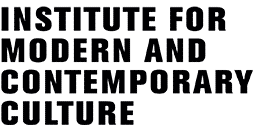 David Cunningham's 2005 essay 'The Concept of Metropolis: Philosophy and Urban Form', originally published in Radical Philosophy, has been translated into Portuguese by Luciana Rocha for the Brazilian journal Revista Periferia.
Any Portuguese readers can see it here: http://www.febf.uerj.br/periferia/index.html

The Institute for Modern and Contemporary Culture
University of Westminster Department of English, Linguistics and Cultural Studies
32-38 Wells Street, London W1T 3UW. United Kingdom.