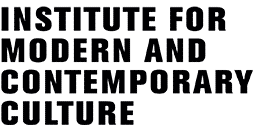 Following the success of the 'Rorschach Audio' talk at The University of Westminster, and sound installation at Usurp Gallery, a quick notification of two more forthcoming events on Disinformation's travels…
Wednesday 30th March 2011: Joe Banks is providing a 'Rorschach Audio' soundtrack for painter Makiko Nagaya's drawing performance at the Superhybrid Dada event organised by curator Peter Lewis in Leeds.
Wednesday 13th April 2011: a 'Rorschach Audio' lecture features in the Living Room festival organised by University of Auckland, Gus Fisher Art Gallery curator Andrew Clifford in New Zealand, to accompany the National Grid sound installation that will be exhibited there.

The Institute for Modern and Contemporary Culture
University of Westminster Department of English, Linguistics and Cultural Studies
32-38 Wells Street, London W1T 3UW. United Kingdom.