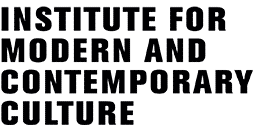 Scarcity Exchanges: Iain Boal and Lydia Mehta
Wednesday, 1 June 2011, 6.30 pm
University of Westminster, Maylebone Campus 
A reminder that, fresh from his appearance at the last of the Institute's Matter Matters Whitechapel Salons, our friend Iain Boal is taking part in the Scarcity Exchanges organized by the Architecture Department this Wednesday, along with Lydia Mehta from Sussex. More info here.

The Institute for Modern and Contemporary Culture
University of Westminster Department of English, Linguistics and Cultural Studies
32-38 Wells Street, London W1T 3UW. United Kingdom.