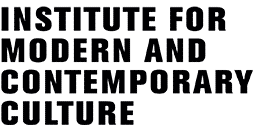 Any local flâneurs passing recently by the IMCC's Wells Street base may have noticed the legend 'All That Is Solid Melts Into Air' beaming out of our side window. We can no longer keep it a secret! The IMCC is delighted to announce the installation of the Institute's very own public display screen, provided courtesy of our friends and collaborators at Blip Creative, which will, once fully operational, be streaming a changing array of staff and student work at our site.
The state-of-the-art wall-hanging LED installation is our contribution to The International Distributed Display Initiative, which currently links together screens at Westminster, Central Saint Martins and Princeton, and is part of the Institute's New Media Theory research project, coordinated by Peter Cornwell at Blip with Alison Craighead and David Cunningham at the IMCC. Using an interface that has been designed such that no prior programming skills are assumed, staff and students will be making work for this experimental new media laboratory that will allow them to explore in hands-on fashion what it means to translate, phenomenalize, or even perform media-theoretical issues as, and in, new media. When fully operational, the screen will then be part of a permanent internet link between installations at various international sites, allowing each collaborating institution to load and display and, using a webcam, observe content at the sites of the other organizations.
We will be staging an official launch soon, as well as announcing further details of staff and student artworks and curated exhibitions for the screen. Long live the Democratic Billboard! Watch this space …

The Institute for Modern and Contemporary Culture
University of Westminster Department of English, Linguistics and Cultural Studies
32-38 Wells Street, London W1T 3UW. United Kingdom.