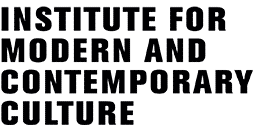 Thursday 12 May 2011, 7pm
Whitechapel Gallery, 77-82 Whitechapel High Street, London E1
Price: £7.00 / £5.00 concessions (includes free glass of wine).
This season's new Whitechapel Salon organised by the IMCC in collaboration with the Whitechapel Gallery will be on 'Cultures of Capitalism'. In the first of four events interrogating contemporary economies of art and culture, Esther Leslie, author of Walter Benjamin: Overpowering Conformism, Adrian Rifkin, author of Street Noises, and David Cunningham, co-editor of Adorno and Literature, discuss 'The Culture Industry Now'. Chaired by Marquard Smith.
Book your ticket at:
http://www.whitechapelgallery.org/shop/product/category_id/22/product_id/871

The Institute for Modern and Contemporary Culture
University of Westminster Department of English, Linguistics and Cultural Studies
32-38 Wells Street, London W1T 3UW. United Kingdom.