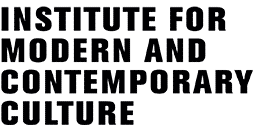 Alexa Wright is taking part in Digital Aesthetic³ 2012, an international exhibition and conference which explores the impact that the digital has on our sense of self and our relationship to the physical world. The exhibition is housed in the Harris Museum & Art Gallery, and the University of Central Lancashire's PR1 Gallery in Preston. It demonstrates some of the diverse ways that artists are utilising digital technology, including projection, digital print, 3d work, screen based video work, touch panel installation, and a live interactive website. The conference takes place over Friday Oct 5th and Saturday Oct 6th. In a great line up, other participants include Mark Amerika, Sean Cubitt and Sophie Calle.
Further details at: http://digitalaesthetic.org.uk/

The Institute for Modern and Contemporary Culture
University of Westminster Department of English, Linguistics and Cultural Studies
32-38 Wells Street, London W1T 3UW. United Kingdom.