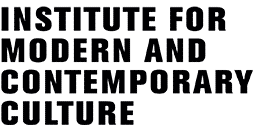 Wednesday 31st October, 4.00pm – 5.30pm
Wells Street, room 106
Zara Dinnen (Birkbeck College, University of London)
Did we Miss it? The Legacy of Cyberculture in Contemporary Representations of Digital Technology
It seems today the watchword of the contemporary is augmented reality not virtual reality. As we move toward an increasingly ubiquitous digital culture, are we able to begin to historicise late twentieth century projections for a digital future? This talk will discuss how cyberculture might be perceived as being of a distinct technocultural moment, and the ways that might matter for approaches to our digital present.
Further details as usual at: http://seminarserieswmin.wordpress.com/

The Institute for Modern and Contemporary Culture
University of Westminster Department of English, Linguistics and Cultural Studies
32-38 Wells Street, London W1T 3UW. United Kingdom.