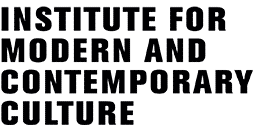 Advance news of the next series of English Literature and Culture research seminars taking place in the first semester this year.
Seminars are fortnightly on Wednesday afternoons, from 4pm to around 5.30pm, and will be held in room 106 in the University's Wells Street building.
Wednesday 17th October
Christopher Daley (University of Westminster)
'Too Many Machines': British Science Fiction Film and Television of the 1950s
Wednesday 31st October
Zara Dinnen (Birkbeck College)
Did we Miss it? The Legacy of Cyberculture in Contemporary Representations of Digital Technology
Wednesday 14th November
Bianca Leggett (Birkbeck College)
Englishness Elsewhere: Considering Cosmopolitanism in the English Travel Novel
Wednesday 28th November
Martin Eve (University of Sussex)
'Opening children's eyes': Pynchon, Bolano, Overloaded Forms and the Didactic Function

The Institute for Modern and Contemporary Culture
University of Westminster Department of English, Linguistics and Cultural Studies
32-38 Wells Street, London W1T 3UW. United Kingdom.