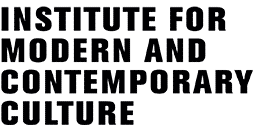 Friday, 17th February 2012, 10.00am to 18.00pm, with drinks afterwards
Landscape and Critical Agency
University College London , Gower Street, London WC1E 6BT
What agency does landscape possess, as a means of territorial organisation and creative production, to engage critically with the conditions that define the collective aspects of our environment?
SPEAKERS:
Jill Desimini, Harvard Graduate School of Design; Professor Murray Fraser, UCL; Professor Matthew Gandy, UCL; Dr Jon Goodbun, University of Westminster; Professor Jonathan Hill, UCL; Jane Hutton, Harvard Graduate School of Design; Douglas Spencer, Architectural Association; Lisa Tilder, Ohio State University; Ed Wall, Kingston University; Tim Waterman, Writtle School of Design; Jane Wolff, University of Toronto; Dr Daniel Zarza, University of Alcala/Daniel Zarza Architects
REGISTRATION:  Attendance is free but spaces must be reserved in advance at
http://www.eventbrite.com/event/2325977060

The Institute for Modern and Contemporary Culture
University of Westminster Department of English, Linguistics and Cultural Studies
32-38 Wells Street, London W1T 3UW. United Kingdom.