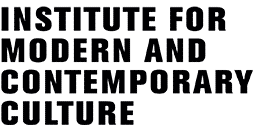 Thursday 5 April 2012, 7pm
Whitechapel Gallery, 77-82 Whitechapel High Street, London E1
Price: £7.00 / £5.00 concessions (includes free glass of wine).
This season's Whitechapel Salon organised by the IMCC in collaboration with the Whitechapel Gallery is on 'Cultures of Capitalism'.  The fifth salon turns to that social and economic form at the very heart of capitalist cultures: Money. In the light of contemporary crises in financial capitalism, Professor Peter Osborne, Director of the Centre for Modern European Philosophy at Kingston University, and author of books including The Politics of Time, Philosophy in Cultural Theory, and Conceptual Art, will be in discussion with David Cunningham about money, cultural form, and the nature of the 'real' today.
Book your ticket at:
http://www.whitechapelgallery.org/shop/index.php/fuseaction/shop.product/product_id/1160

The Institute for Modern and Contemporary Culture
University of Westminster Department of English, Linguistics and Cultural Studies
32-38 Wells Street, London W1T 3UW. United Kingdom.