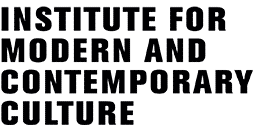 Four super current and recent MA Visual Culture students have established a new curatorial collective, 4fold , and their first public event is taking place tonight: a film screening beginning at 8pm. The programme will include a selection of artists' films, documentaries, and archival material that explores social housing, public interaction and surveillance. It'll takes place at Princess River, Cody Dock (11c South Crescent, London E16 4TL – map here), which is only five minutes walk from Star Lane Station (new DLR branch).
Both 4fold and Cody Dock really need your support, please feel free to attend. In this weather, it'll be a fantastic evening for sure!


The Institute for Modern and Contemporary Culture
University of Westminster Department of English, Linguistics and Cultural Studies
32-38 Wells Street, London W1T 3UW. United Kingdom.