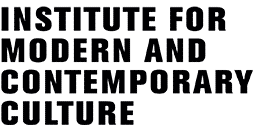 The Mediated City, Part Two – Los Angeles
Woodbury University, Los Angeles , October 1-3 2014
Keynote Presentation: Kenneth Frampton
Taking as its starting point the 50 year anniversary of Marshall McLuhan's Understanding Media and the idea of "the global village", the conference aims to bring people from diverse backgrounds together around the issue of the modern city.
Deadline for abstracts February 15th; Deadline for full papers / detailed proposals June 15th
Visit: http://architecturemps.com/los-angeles/

The Institute for Modern and Contemporary Culture
University of Westminster Department of English, Linguistics and Cultural Studies
32-38 Wells Street, London W1T 3UW. United Kingdom.