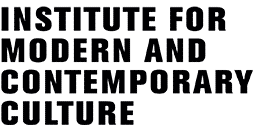 The Historical Novel of the Contemporary: A Symposium
Tuesday 3rd December, 2-6pm
Carroll / Fletcher Gallery, 56 – 57 Eastcastle Street, London W1W 8EQ
Speakers: Emmanuel Bouju (Rennes), David Cunningham (Westminster), John Kraniauskas (Birkbeck), Fiona Price (Chichester), Leigh Wilson (Westminster)
The subject of a revival in recent decades, in both its 'literary' and 'popular' forms, for Georg Lukács the historical novel was, above all, that which narrated the 'pre-history of the present'. Discussing authors ranging from Roberto Bolano to David Peace, Hilary Mantel to Wu Ming, this afternoon symposium considers the historiographic and political forms of the historical novel today as it might narrate the pre-history of our own contemporary.

The Institute for Modern and Contemporary Culture
University of Westminster Department of English, Linguistics and Cultural Studies
32-38 Wells Street, London W1T 3UW. United Kingdom.