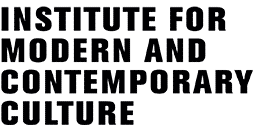 After five glorious years directing the IMCC, Marq Smith is moving on to pastures new, taking up a new post as Head of Research and Doctoral Studies in the School of Humanities at the Royal College of Art. We wish him all the best. We are delighted, however, to announce the appointment of Professor John Beck as the Institute's second Director, inaugurating a new era in the IMCC's history.
In his own research, John works in American literature and culture, photographic theory and visual culture. He is on the editorial board of the journal Cultural Politics, and his most recent book, Dirty Wars: Landscape, Power, and Waste in Western American Literature, was winner of the Western Literature Association's Thomas J. Lyon Prize in 2010. His current project is focused on the politics of American landscape representation.
Watch this space…

The Institute for Modern and Contemporary Culture
University of Westminster Department of English, Linguistics and Cultural Studies
32-38 Wells Street, London W1T 3UW. United Kingdom.