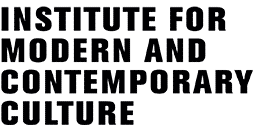 Marxism in Culture
Autumn Term seminars 2013
All seminars start at 5.30pm at the Institute of Historical Research, Senate House, Malet Street, London, WC1E 7HU. The seminar closes at 7.30pm and retires to the bar.
Friday 4 October
Diane Morgan (University of Leeds)
Homo Laborans?: The "French Utopian Socialists" View of "Work".
Location: The Court Room
Friday 15 November
Marcus Rediker (University of Pittsburgh)
The Amistad Rebellion in American Popular Culture, 1839-1841.
Location: The Court Room
Friday 29 November
David Cunningham (University of Westminster)
Prosaic Modernity: Capital, the Bourgeois and the Novel
Location: Bloomsbury Room G35
Friday 13 December
Larne Abse Gogarty (University College London)
Community and Reproduction: Edith Segal's dance work and Suzanne Lacy's Expectations
Location: The Court Room
Organisers: Matthew Beaumont, Dave Beech, Alan Bradshaw, Warren Carter, Gail Day, Steve Edwards, Larne Abse Gogarty, Esther Leslie, David Mabb, Antigoni Memou, Chrysi Papaioannou, Nina Power, Dominic Rahtz, Pete Smith, Peter Thomas & Alberto Toscano.
For further information, please contact Larne Abse Gogarty at larne.gogarty.09@ucl.ac.uk or Chrysi Papaioannou at chrysi_p@yahoo.co.uk. All welcome. www.marxisminculture.org

The Institute for Modern and Contemporary Culture
University of Westminster Department of English, Linguistics and Cultural Studies
32-38 Wells Street, London W1T 3UW. United Kingdom.