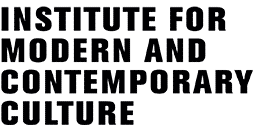 A new issue of the journal New Formations is out co-edited by the IMCC's Sas Mays. Entitled 'Materialities of Text: From the Codex to the Net', the collection came out of an online conference hosted by the Institute's 'Archiving Cultures' affiliate. Further information on the issue is available here. You can also download a copy of Sas's introduction to the issue, co-authored with Nick Thoburn, for free at: http://www.lwbooks.co.uk/journals/newformations/pdfs/nf78 intro.pdf

The Institute for Modern and Contemporary Culture
University of Westminster Department of English, Linguistics and Cultural Studies
32-38 Wells Street, London W1T 3UW. United Kingdom.