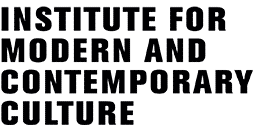 The latest in a series of interviews with major figures in contemporary architecture and architectural theory, to be found in Vol 2, no. 4 of ARCHITECTURE_MEDIA_POLITICS_SOCIETY, is now available on-line.
Michael Sorkin, 'Driving on the Left: A View of the Street, the City and Architecture'
Sardonic, cutting, insightful, provocative: Michael Sorkin is one of today's most radical architectural commentators with a staunch leaning to the political left and a literary bent for framing painful truths in ironic, and sometimes hilarious, verse. He is a Distinguished Professor of Architecture and Director of the Graduate Program in Urban Design at the City College of New York. He is also Chair of Terreform, Center for Advanced Urban Research. He was the architecture critic of the Village Voice for ten years and has recently been appointed as a Visiting Professor in Architecture at Westminster.
Read it at: http://architecturemps.com/

The Institute for Modern and Contemporary Culture
University of Westminster Department of English, Linguistics and Cultural Studies
32-38 Wells Street, London W1T 3UW. United Kingdom.