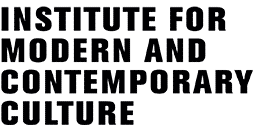 The Political Unconscious of Architecture
February 28 2013, 6.30pm
UCL Urban Laboratory @ Bartlett School of Architecture
UCL Royal Ear Hospital, Ground Floor, Capper Street, London WC1E 6AP
An evening of presentation and discussion to celebrate the publication of a new paperback edition of The Political Unconscious of Architecture, edited by Nadir Lahiji. Contributors David Cunningham (IMCC, Westminster), Donald Kunze (Penn State), Nadir Lahiji (Pennsylvania), Jane Rendell (Bartlett), and Robin Wilson (Bartlett), along with respondents Camillo Boalo (DPU, UCL) and Douglas Spencer (AA), take up Fredric Jameson's radical critique at the juncture of aesthetics and politics. All welcome!

The Institute for Modern and Contemporary Culture
University of Westminster Department of English, Linguistics and Cultural Studies
32-38 Wells Street, London W1T 3UW. United Kingdom.