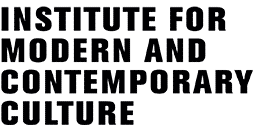 An event at next month's Cheltenham Festival featuring our own Anne Witchard:
Translating China
Sunday 13 October, 12-1, Montpellier Gardens
How does the west 'translate' China and particularly the role of Chinese women past and present? How do western perceptions relate to reality? Acclaimed author of The Good Women of China, Xinran, joins the prize-winning 'Misty Poet' Yang Lian, and Anne Witchard, lead researcher on the AHRC project China in Britain: Myths and Realities, to discuss the evolution of gender roles in China, especially during the tumultuous events of the last hundred years.
Book your ticket here:  http://www.cheltenhamfestivals.com/literature/whats-on/2013/translating-china/

The Institute for Modern and Contemporary Culture
University of Westminster Department of English, Linguistics and Cultural Studies
32-38 Wells Street, London W1T 3UW. United Kingdom.