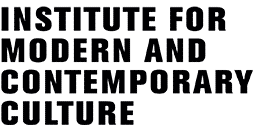 The IMCC is delighted to welcome Martin Willis who is joining us this month as Professor in Science, Literature and Communication based within the Department of English, Linguistics and Cultural Studies at Westminster. Martin's main research interests lie in the intersections between Victorian literature and science, in particular the literary imagination's response to marginal sciences such as mesmerism and spiritualism, and by literature's interrogation of scientific sites and conflicts, from the laboratory and seance room to debates in disease theory and vivisection controversies. He is also Editor of of the Journal of Literature and Science, a peer-reviewed journal dedicated to scholarship exploring the cross-fertilisation between literature and science across all literary periods.
Martin's most recent book, Vision, Science and Literature, 1870-1920: Ocular Horizons, was published by Pickering and Chatto in 2011 and was winner of both the 2011 British Society for Literature and Science Book Prize and 2012 European Society for the Study of English Cultural Studies Book Prize. Drawing on science, technology, and literature, the book aims to analyse the interaction between science, sight and the literary imagination in order to understand better how vision was continually transformed as its boundaries were breached by scientific and technological innovation.

The Institute for Modern and Contemporary Culture
University of Westminster Department of English, Linguistics and Cultural Studies
32-38 Wells Street, London W1T 3UW. United Kingdom.