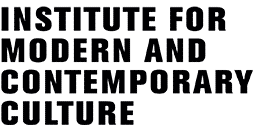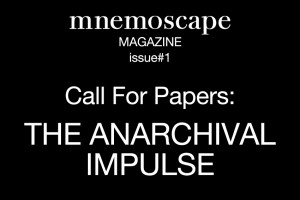 To mark the launch of Mnemoscape Magazine – edited by two former students at the IMCC – which coincides with the ten years anniversary of the publication of Hal Foster's essay 'An Archival Impulse' (2004), the editors would like to prompt a reflection on the notion of the 'anarchival'.
'An Archival Impulse' has establish itself as a seminal essay tackling the emergence of a specific archival tendency in contemporary art. However, as Foster noticed, this trend could perhaps be better defined as an 'anarchival impulse'. The first issue of Mnemoscape Magazine would like to return to Foster's early intuition and propose an epistemological shift in the study of archival art practices, one that privileges their anarchival disposition, while speculating on the positive and liberating aspects of forgetting.
Submissions are invited of single-authored or joint papers, interviews, reviews of art exhibitions and art projects that are concerned with the anarchival impulses. Send a 300 words abstract and CV to: mnemoscape@gmail.com  Deadline: 30 June 2014
http://mnemoscape.wordpress.com/magazine/

The Institute for Modern and Contemporary Culture
University of Westminster Department of English, Linguistics and Cultural Studies
32-38 Wells Street, London W1T 3UW. United Kingdom.