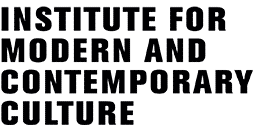 Westminster's Centre for the Study of Science and Imagination has a visiting scholar in residence immediately after the Easter break. Professor Janine Rogers will be with us from Canada and will be giving a seminar on the importance of literature for science writers, including a discussion of Chaucer and Brian Cox, on Monday 28 April at 5pm in the University of Westminster's Regent Street building (room UG05), and a masterclass on form in literature and science scholarship on Wednesday 30 April at 3pm in Wells Street (room 206).
Further details on the SCIMAG website here: http://www.westminster.ac.uk/scimag/events

The Institute for Modern and Contemporary Culture
University of Westminster Department of English, Linguistics and Cultural Studies
32-38 Wells Street, London W1T 3UW. United Kingdom.