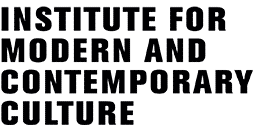 Wednesday 26 November, 4.15pm
Room 311, University of Westminster, Wells Street, London W1T 3UW
Dr Daniela Caselli, University of Manchester
"Modernist Children​"
Modernism and the child are a rather disconcerting couple: where the first term stands for serious and radically experimental literature suspicious of the masses, the second is associated with spontaneity, simplicity, and sentimentality. Yet, the apparent incompatibility of this pair (artifice and nature) is celebrated by modernist authors: in his writings of the 1920s, Roger Fry recommended artists to look at the world with the innocence of a child; Virginia Woolf referred in her diaries to her 'childish vision'; and Pablo Picasso famously quipped that 'if an adult can draw like a child at forty he is a genius'. Joyce's Dubliners and A Portrait of the Artist as a Young Man are often read as reproducing a child's mind, and so are Woolf's The Waves and sections of To the Lighthouse. Generation and parturition are central metaphors in H.D.'s work, whilst children are the focus of many short stories by Katherine Mansfield. Walter Benjamin broadcast children's programmes in 1929 and 1930; Gertrude Stein made extensive use of 'childish' language in her prose; and Wyndham Lewis, in contrary fashion, deplored the 'child cult' that, for him, afflicted modernists from Stein to Hemingway and Anderson. The pervasiveness of the child's presence in early twentieth-century literature has gone almost unrecorded . The project from which this paper derives argues that such an oversight is relevant because the child in modernism signals a disavowed attachment to the notion of the human in the midst of revolutionary and self-critical aesthetic practices. The paper looks at some examples from Woolf, Joyce, and Beckett to analyse the allegedly invisible nexus of self-evident, material affectivity – the child – in the context of a disenchanted project of modernism that is still, however, fascinated by the pull of materiality.

The Institute for Modern and Contemporary Culture
University of Westminster Department of English, Linguistics and Cultural Studies
32-38 Wells Street, London W1T 3UW. United Kingdom.