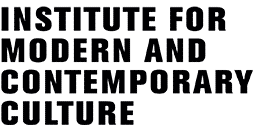 Plastic Words
December 2014 – January 2015
Raven Row, 56 Artillery lane, London E1 7LS
The East London gallery Raven Row is playing host, for six weeks across December and January, to a series of public events that mine the contested space between contemporary literature and art. Speakers include (on Weds 21st January) the IMCC's David Cunningham, in conversation with Peter Osborne on 'New Contemporaneities', as well as host of others including Brian Dillon, Chris Kraus, Tom McCarthy, Donald Nicholson-Smith and McKenzie Wark.
Further details at: http://www.ravenrow.org/forthcoming/
Flier listing all the events attached here: Plastic Words_RR_PW_flyer.

The Institute for Modern and Contemporary Culture
University of Westminster Department of English, Linguistics and Cultural Studies
32-38 Wells Street, London W1T 3UW. United Kingdom.