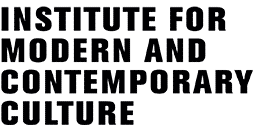 Print Screen: Writing and the Image
The Photographer's Gallery, London
Wednesday 17th December 2014
This symposium – a collaboration between the IMCC and the Photographer's Gallery – addresses current thinking on the relationship between writing and the image, with particular emphasis on connections across the fields of experimental literature, photography, and film.
Presenters include: Laura Mulvey, Redell Olsen, Patrick Keiller, Jonathan Long, Daniel Kane and our own Leigh Wilson.
Laura Mulvey is Professor of Film and Media Studies at Birkbeck, University of London. A renowned film theorist, her influential work Visual Pleasure and Narrative Cinema (1975) and subsequent collection of essays Visual and Other Pleasures (1989) established feminist film theory as a field of enquiry. As well as publishing widely in film and media studies, she has also co-written and co-produced with Peter Wollen a number of films including Riddles of the Sphinx (1977).
Redell Olsen is a poet and text based artist whose visual work involves live performance with stills or moving image. Film Poems (Les Figues, 2014) collects the texts for her films and performances from 2007–2012. She is currently a Reader in Poetic Practice at Royal Holloway, University of London.
Patrick Keiller is a filmmaker and writer. His celebrated films dealing with the poetics of place include London (1994), Robinson in Space(1997), and Robinson in Ruins (2010). His commission for Tate Britain,The Robinson Institute, was exhibited in 2012 and a book of essays,The View from the Train: Cities and Other Landscapes, was published by Verso in 2013.
Jonathan Long is Professor of German and Visual Culture at Durham University. He has published extensively on writing and photography. His books include W. G. Sebald: Image, Archive, Modernity (Columbia University Press, 2007), and current research focuses on the photographic book in the Weimar Republic.
Daniel Kane is a poet, critic, and Reader in English & American Literature at the University of Sussex. His books include All Poets Welcome: The Lower East Side Poetry Scene in the 1960s (2003) andWe Saw the Light: Conversations Between the New American Cinema and Poetry (2009).
Leigh Wilson is Reader in English Literature at the University of Westminster. She writes mainly on modernism and British fiction and her recent publications include Modernism and Magic: Experiments with Spiritualism, Theosophy and the Occult (2013).
Free admission, but booking required. Further details at: http://thephotographersgallery.org.uk/print-screen-writing-and-the-image#-INFO

The Institute for Modern and Contemporary Culture
University of Westminster Department of English, Linguistics and Cultural Studies
32-38 Wells Street, London W1T 3UW. United Kingdom.