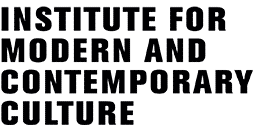 Radical Philosophy Berlin Conference 2015
5 4 3 2 1…
Friday 16 – Saturday 17 January
Haus der Kulturen der Welt, Berlin
For our German friends, the journal Radical Philosophy will be holding its regular mega-conference in Berlin next year, with speakers including the IMCC's own Matt Charles and David Cunningham. Other participants include Christa Blumlinger, Gregoire Chamayou, Claire Fontaine, Peter Hallward, Gertrud Koch, Esther Leslie, Mark Neocleous, Peter Osborne, Nina Power, Frank Ruda, Hito Steyerl, and many others.
Further details on the HKW website at:
http://www.hkw.de/en/programm/projekte/2015/radical_philosophy/radical_philosophy_start.php

The Institute for Modern and Contemporary Culture
University of Westminster Department of English, Linguistics and Cultural Studies
32-38 Wells Street, London W1T 3UW. United Kingdom.