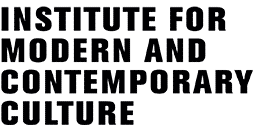 NOTE: Apologies – due to the tube strike, the cross-faculty seminar 'on violence', scheduled is postponed. Instead of an opening round-table, we shall have a rounding up table at the end of the series, on Wednesday 26th of March.
Wednesday 5th February, 1.00-3.00pm
Westminster Forum, 5th Floor, University of Westminster, 32-38 Wells Street, London W1T
Special Roundtable on Violence to launch the new Faculty Seminar Series.
Participants including David Cunningham, Sasha Darke, Harriet Evans, Debra Kelly, Ben Pitcher, Tom Moore and Andreas Philoppopolous-Mihalopolous
Chaired by Lucy Bond (Westminster)

The Institute for Modern and Contemporary Culture
University of Westminster Department of English, Linguistics and Cultural Studies
32-38 Wells Street, London W1T 3UW. United Kingdom.