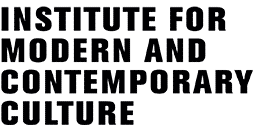 There will be drinks and nibbles at the Whitechapel Gallery (5:30pm onwards) on Thursday 30th January 2014 to celebrate the publication of the Journal of Visual Culture's 'The Archives Issue'. The special issue features contributions from Sas Mays and Marquard Smith, alongside Basel Abbas and Ruanne Abou-Rahme (with Tom Holert), susan pui san lok, Uriel Orlow, Chris Horrocks, Shezad Dawood (and Mark Bartlett), Nina Lager Vestberg, Gary Hall, and Trevor Paglen and Juliette Kristensen.
The launch will be followed (at 7-9pm, tickets £8.50/£6.50 concessions) by 'Autobiography and the Archive', a screening of work by Uriel Orlow, Miranda Pennell, and Sarah Purcell exploring the archive, collective memory, and personal history, curated by Mnemoscape (ex-MA students in the IMCC, Elisa Adami and Alessandra Ferrini).

The Institute for Modern and Contemporary Culture
University of Westminster Department of English, Linguistics and Cultural Studies
32-38 Wells Street, London W1T 3UW. United Kingdom.